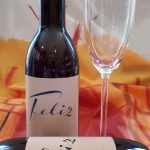 Ladies and gents, there's a new kid in town, meet Feliz! This sparkling, non alcoholic, ready-to-drink apéro is carefully crafted by El Gusto Loco and Ghost in a Bottle. It contains no alcohol, is low in calories and will lift your mood, without clouding your mind.
Feliz is now available in your favourite bar, resto and shop.
and welcome this mindful sparkling rosé with open arms!
www.vinotaire.be
Dames en heren, er is een nieuw niet alcoholisch drankje in het dorp, welkom aan Féliz!
deze niet – alcoholische sprankelende apero, klaar om te aperitieven, is zorgvuldig ontstaan door de samenwerking tussen Ghost in a Bottle en El Gusto Loco. Het bevat geen alcohol, laag aan calorieen en het is heerlijk om te kraken wanneer je geen zin hebt in alcohol.
Nu beschikbaar in uw favoriete wijnshop te Zandhoven, binnenkort 8 oktober openen wij de deuren in de gloednieuwe winkel.
Ontdek deze apero met open armen, de packaging kan je gewoon niet weerstaan.
5,80 / flesje
momenteel nog niet beschikbaar in grote formaten.